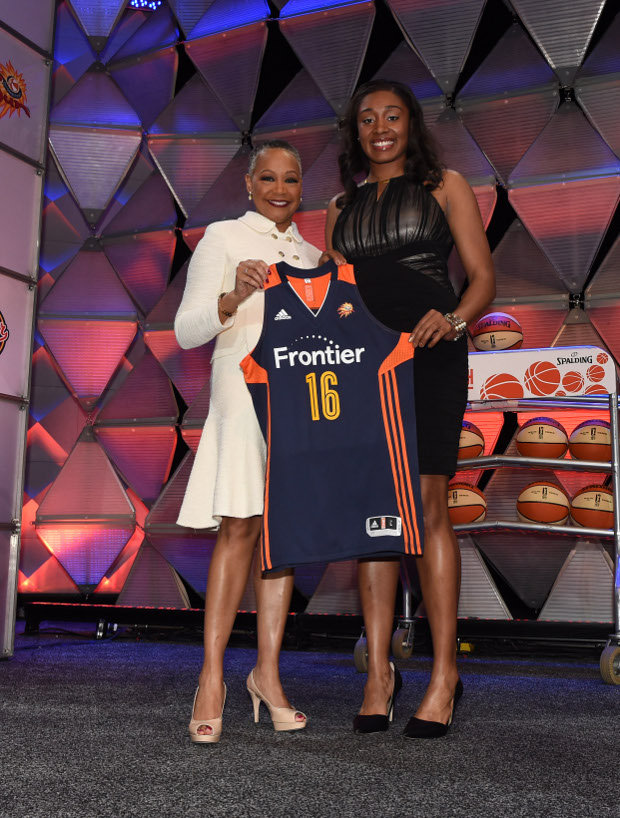 Article link: mlive.com
Photo: Grand Rapids native Morgan Tuck, right, meets with WNBA president Lisa Borders after being selected by the Connecticut Sun in Thursday's 2016 draft. Tuck was the overall third pick. (NBA/Getty Images) (NBAE/Getty Images)
By Steve Kaminski
on April 14, 2016 at 8:45 PM,
Updated April 15, 2016 at 11:19 AM
Morgan Tuck's Women's National Basketball Association career is about to take flight, although the Grand Rapids native won't have far to go.
Maybe about 40 minutes down the road, and that's it.
Tuck, a 6-foot-2 forward who helped the University of Connecticut win its fourth consecutive NCAA championship this spring, was drafted Thursday night by the Connecticut Sun.
The draft was televised live on ESPN2 from Uncasville, Conn., and Tuck was chosen third overall.
"I was really hoping they would pick me up, and they did," Tuck said. "There are going to be a lot of adjustments, but I don't necessarily have to adjust to a whole new environment. It will be a 40-minute drive from campus. It will be great that all I have to do is drive down the road. The adjustment for me is going to be more on the court."
Tuck lived in Grand Rapids until she was five years old. That's when her family relocated to Illinois due to her father's job. Tuck's mother, Lydia Tuck, is from Grand Rapids and graduated from Creston High School, while her father, David, is from Covert and played at Ferris State University.
Tuck's selection completed a top-three sweep for the University of Connecticut because her teammates Breanna Stewart and Moriah Jefferson were drafted first and second, respectively, with Seattle taking Stewart and Jefferson going to San Antonio. It marked the first time in draft history that the top three players were taken from the same school.

"It was really great to see them take that next step in living the dream," Tuck said. "I was glad I was able to be out there and see that. For us to go top three, it was the best possible way we could end our time together."
Tuck averaged 13.7 points and 5.7 rebounds this season, which were both second for the Huskies behind Stewart's 19.4 points and 8.7 rebounds. Tuck shined in the Final Four. She scored 21 points in Connecticut's 80-51 victory over Oregon State in the national semifinals. Tuck then netted 19 in Connecticut's 82-51 win over Syracuse in the finals, enabling the Huskies to cap a 38-0 season.
Next up is the Connecticut Sun, which tied for fifth in the Eastern Conference in 2015. The Sun will have a first-year coach in Curt Miller, who was hired in December.
"I think the biggest challenges will be the pace of play, the physicality and knowing that every team has really, really great players," Tuck said. "In college, we got used to winning our games by a lot of points every night, but that's not going to happen in the league. So the way the game is played will be a big adjustment, and it will take some time to get used to that."
Tuck starred at Bolingbrook High School in Bolingbrook, Ill., where she earned Ms. Basketball honors her freshman season, making her the youngest player in Illinois history to earn the award.